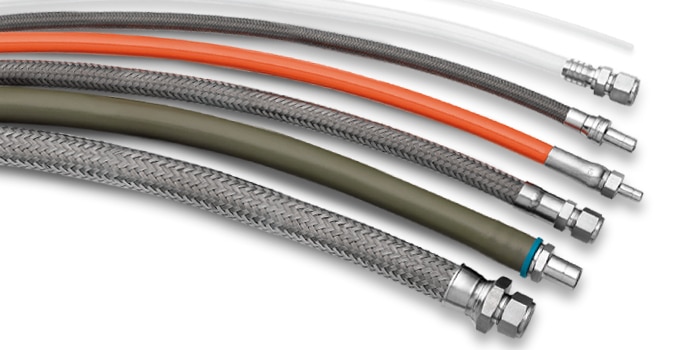 We can assemble custom hoses in our Richmond facility. This means high quality hose, ready when you need it.
Swagelok offers a broader range of hose than you may realize - from the toughness of all-metal stainless steel hose to the easy flow of PTFE-lined smooth bore and easy flexibility of PTFE-lined convoluted in the lengths you need.
Depending on the hose type, pressure ratings range from vacuum to 5000 psig (344 bar). Sizes range from 1/8 to 2 in. (3.2 to 50.8 mm) with a wide variety of end connections, including pipe, tube, sanitary, flare and pipe flange. And you can choose Swagelok hose that can be autoclaved and sterilized, or built with silicone covering, or constructed with a nonconductive core for applications that require static dissipation.
Give us a call 804-275-7871 or email info@dibert.swagelok.com, and let us build you a custom hose that will last!